July 6th, 2016 Posted in
The Love Bucket®
Wife tells husband, no more room in 'love bucket' for you, now that we have kids
'I have a love bucket. The two kids and myself take up the majority of the love in the love bucket. You have like a third of the love bucket.'
Sarah Hosseini, 31, said that her children now take up the majority of her love, followed by herself and lastly her husband…
She said: 'My self-love comes second. My husband's got the bottom of the barrel. But I do believe love is fluid like water. It ebbs and flows, and can rise again when the time is right.'
This comes from her blog post on Your Tango by Sarah entitled, I Didn't Love My Husband As Much Once We Had Kids. This was on June 28, 2016 in the Family and Love section.
Her husband is the positive and optimistic one as witnessed by his reply:
"No, less actually," Sarah said flatly. "I have a love bucket. The two kids and myself take up the majority of the love in the love bucket. You have like a third of the love bucket. You used to have a lot more before the girls were born. But I've only got so much love to give. So, yeah, you have less now."
"Well, when the girls were born, I bought two more love buckets," he said smiling.
The mother said before she had children she used to 'put myself last'. Her husband had her 'whole love bucket' and she used to accompany him doing activities and going to events to please him and cooked and cleaned up after him, she said.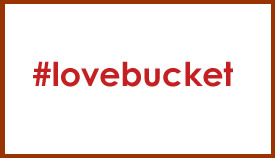 THE LOVE BUCKET® trademark has no relation to the Your Tango blog post where Sarah refers to "love bucket"